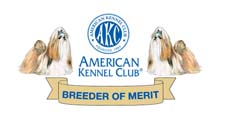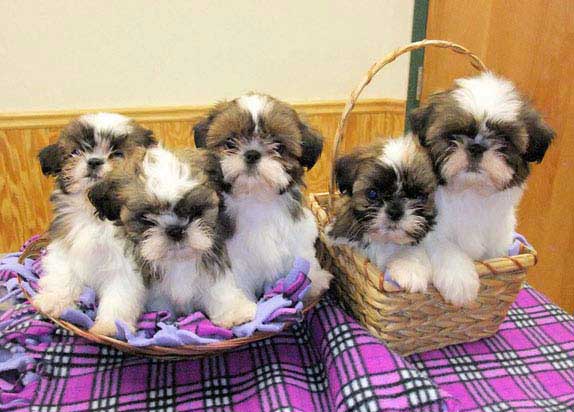 Open letter to potential buyers
At this time, we have 2 fabulous older puppies and one very lovely adult shihtzu for sale.
I have never listed what was available on my website, preferring to just let people come through word of mouth or The National Shih Tzu Club. The reason I have changed my mind is that I would like to "advertise" not just the puppies but also what Olive's Grove is looking for when we sell one of our pets. Besides the usual neuter/spay agreement, etc, I am interested in why you want a dog and would like to share some concerns I have with you.
There are fabulous homes out there and I want nothing less for one of my kids. I am less interested in the size of your yard than in how much a part of the family he or she will be.
The dogs I've listed above are fantastic but please don't call if you want a puppy for your child. Children are wonderful for puppies. They have such a light, happy energy but they are not in a position to have their own dog. I want the puppy coming into the house to be no different than a new baby coming into the house. It is there to be part of the family. You wouldn't hand it off to your older child as a present.
Another issue is when I hear that the child will need to take some responsibility for the pet. Bringing another soul into your house is not in order to teach your child responsibility. Respect, yes but I've learned over the years, that when I hear this responsibility speech, it's all about what they want for the child and less about the dog. Puppies aren't just another type of learning toy for the child. You really need to want the dog for yourself and not just because you want the child to have a dog.
I've even heard some very nice people talk about being ready for the "burden" in describing taking care of a puppy. They shouldn't be a burden nor should they be an accessory. They are there to just give and receive love.
I certainly don't want to offend or alienate anyone but in the 21 years that I've been breeding, I've come to see that there are many different reasons to want to buy a puppy, and it was important that I shared these concerns with you. I am just saying that if you want to come to my house to meet all my dogs and hopefully fall in love with someone to have as a full member of your family, I can't wait to meet you and welcome your visit!
Michael
Olive's Grove
ASTC Shih Tzu and Children article
---